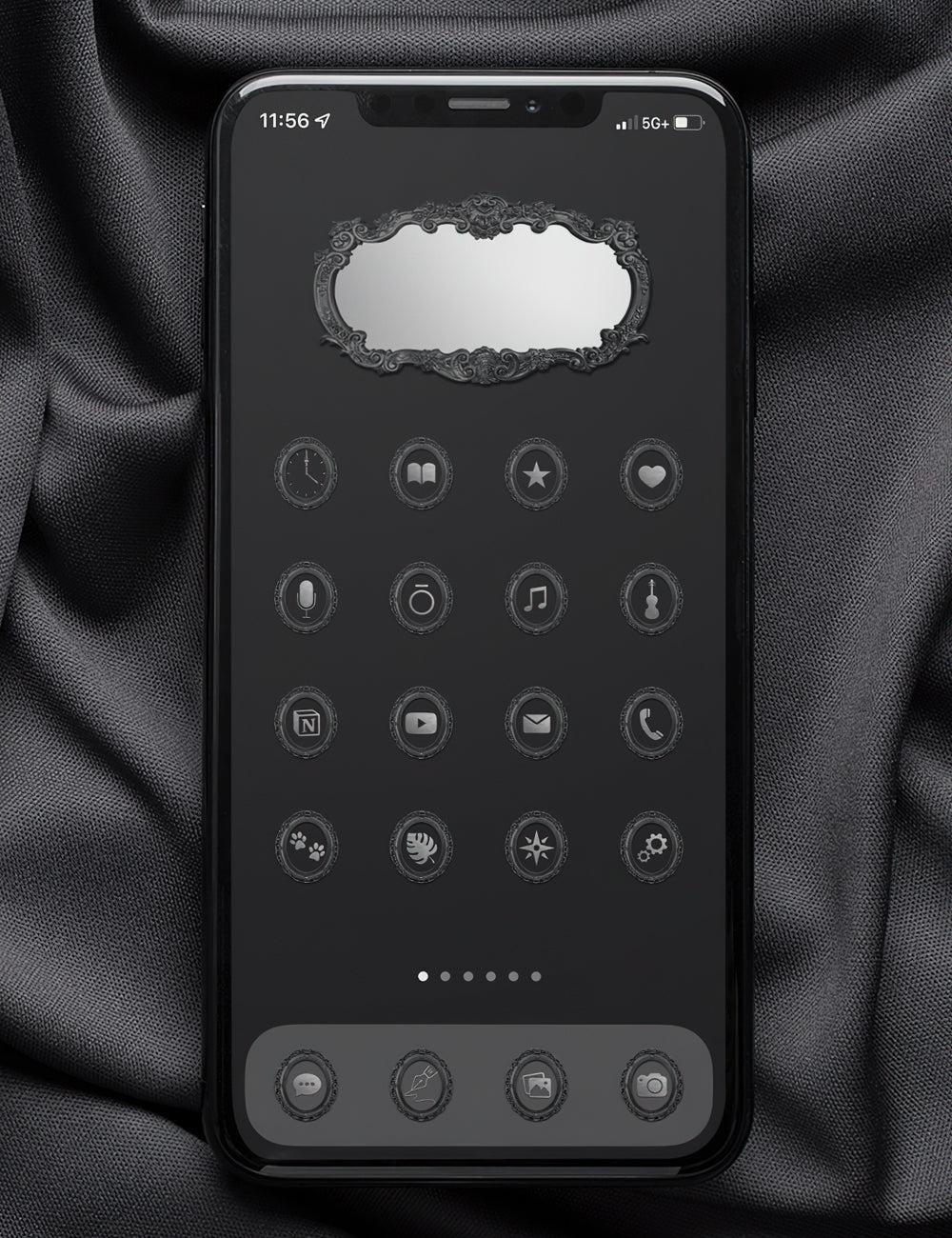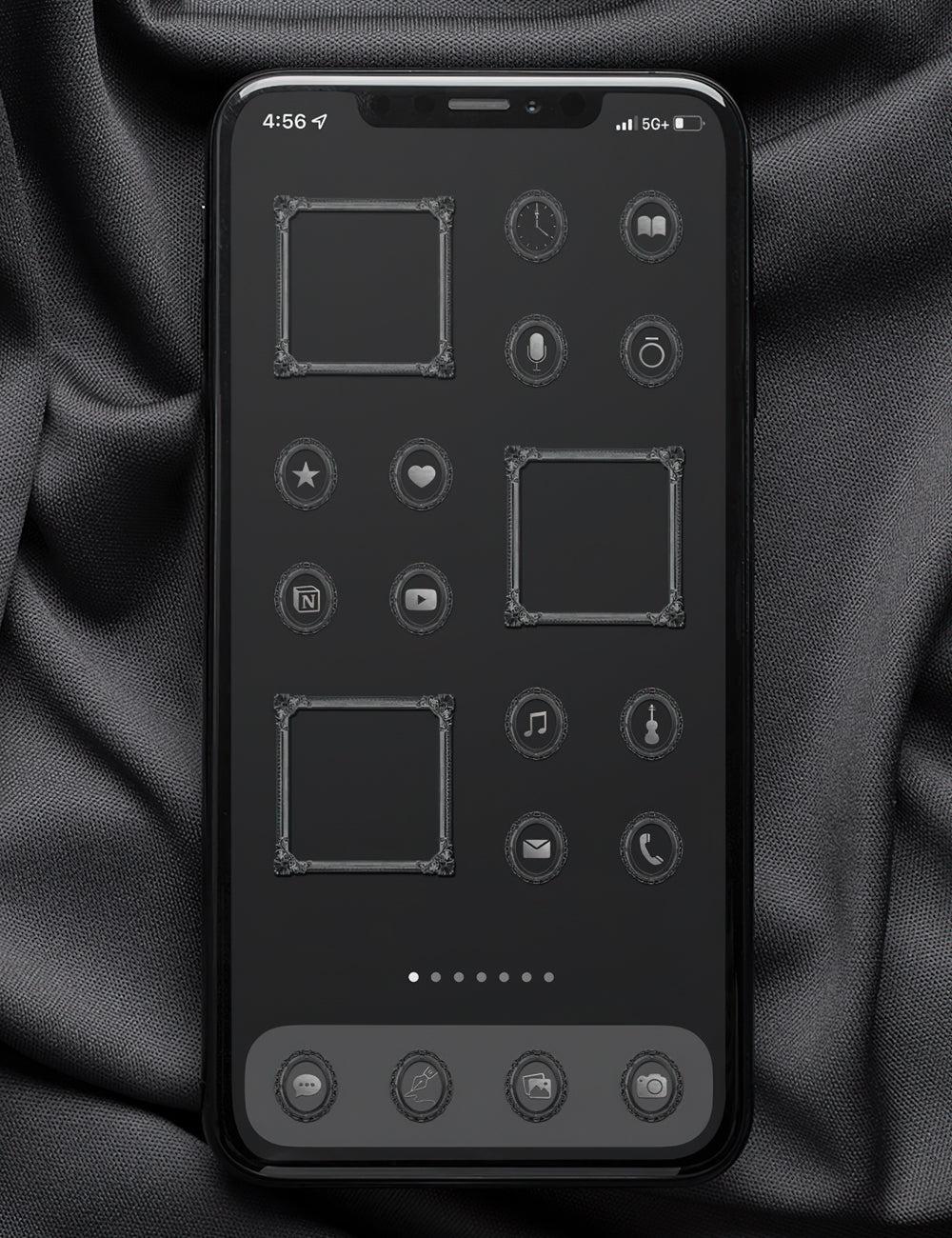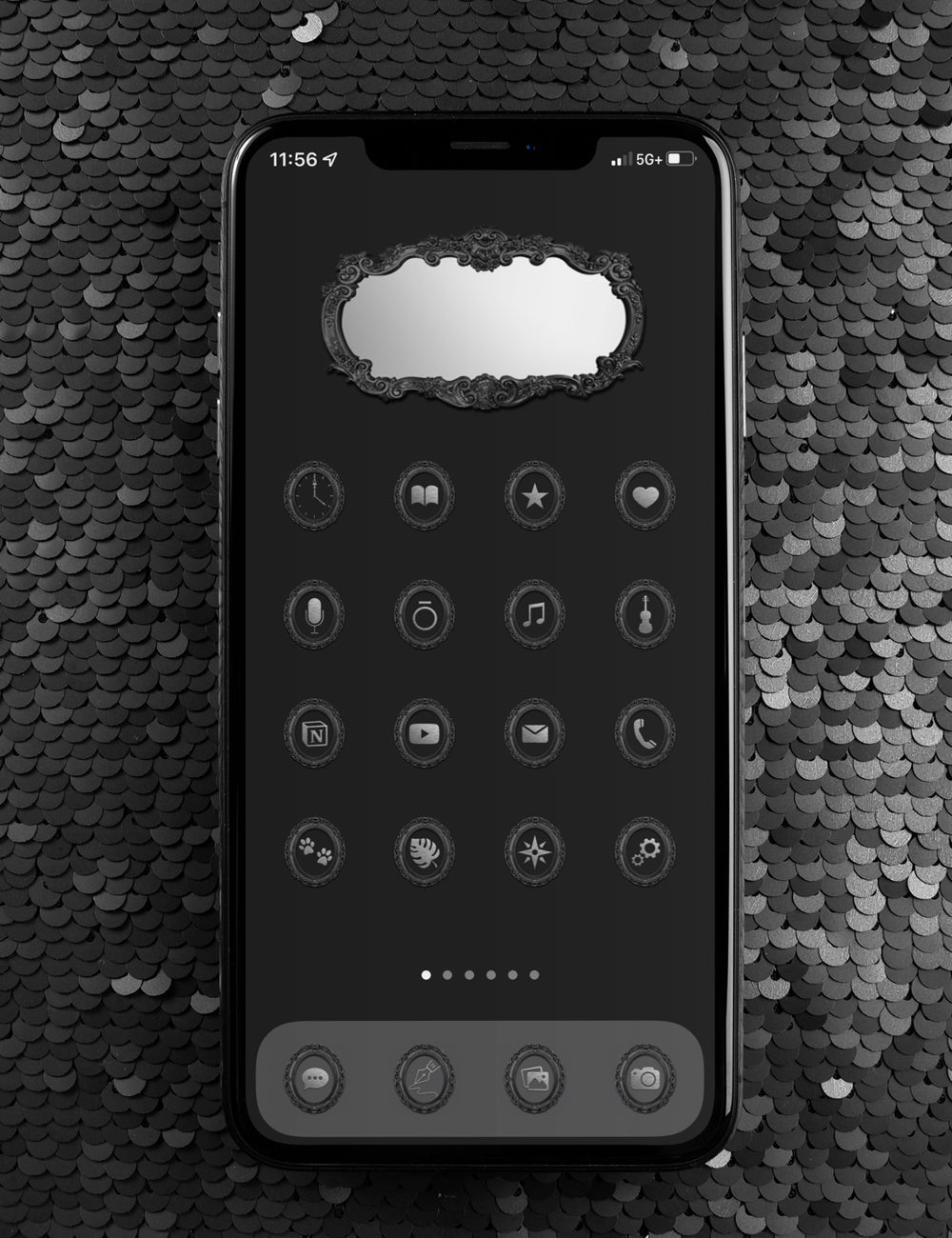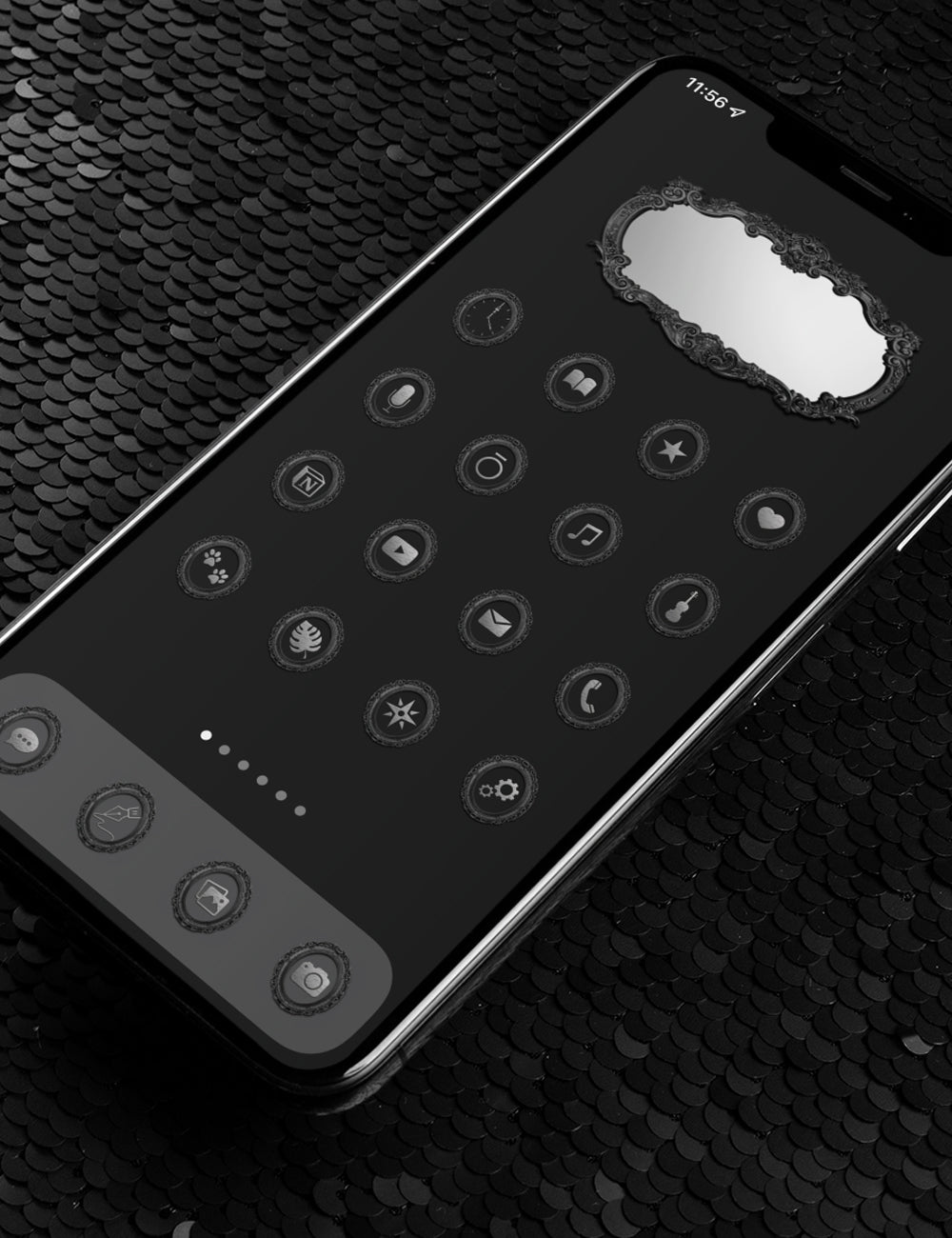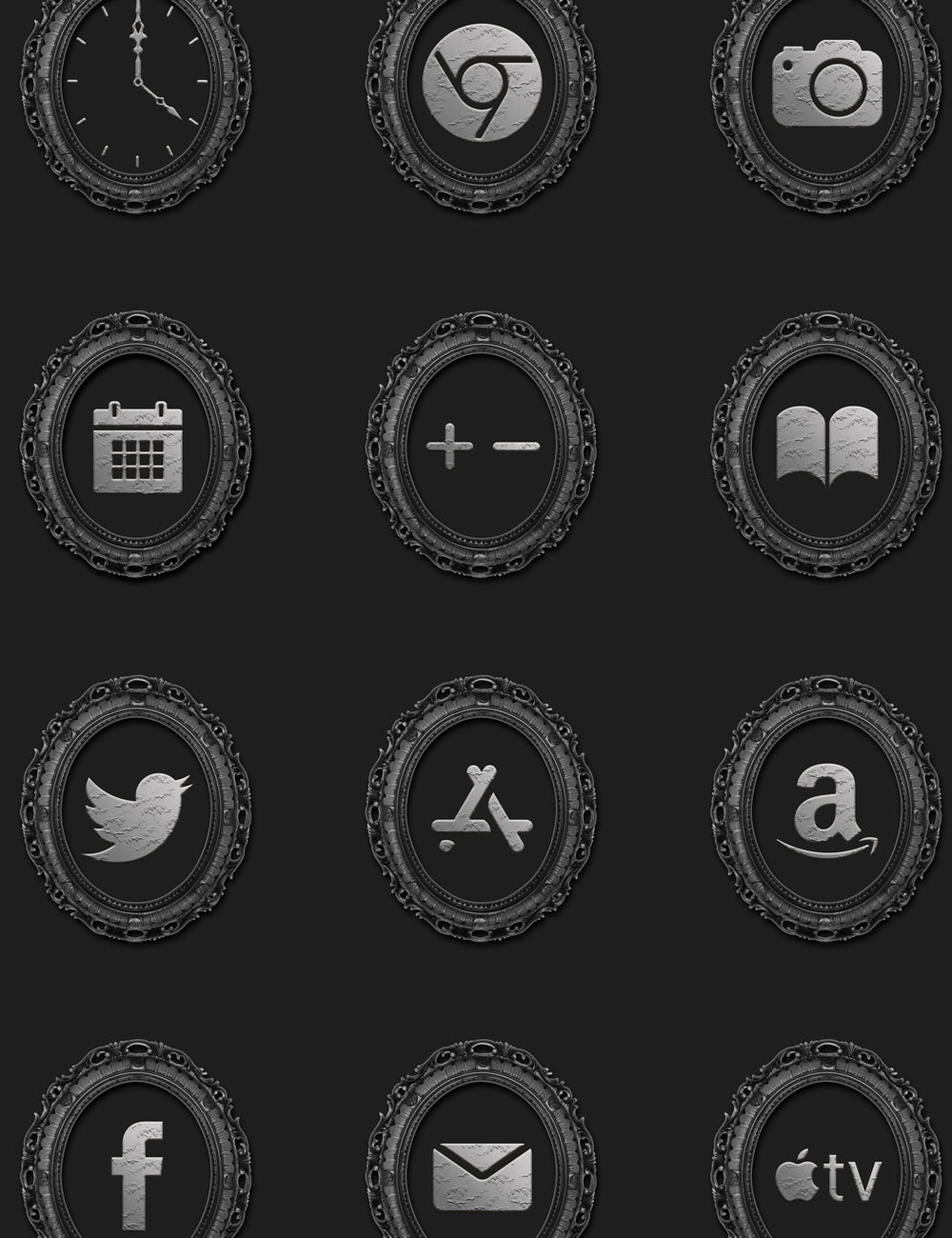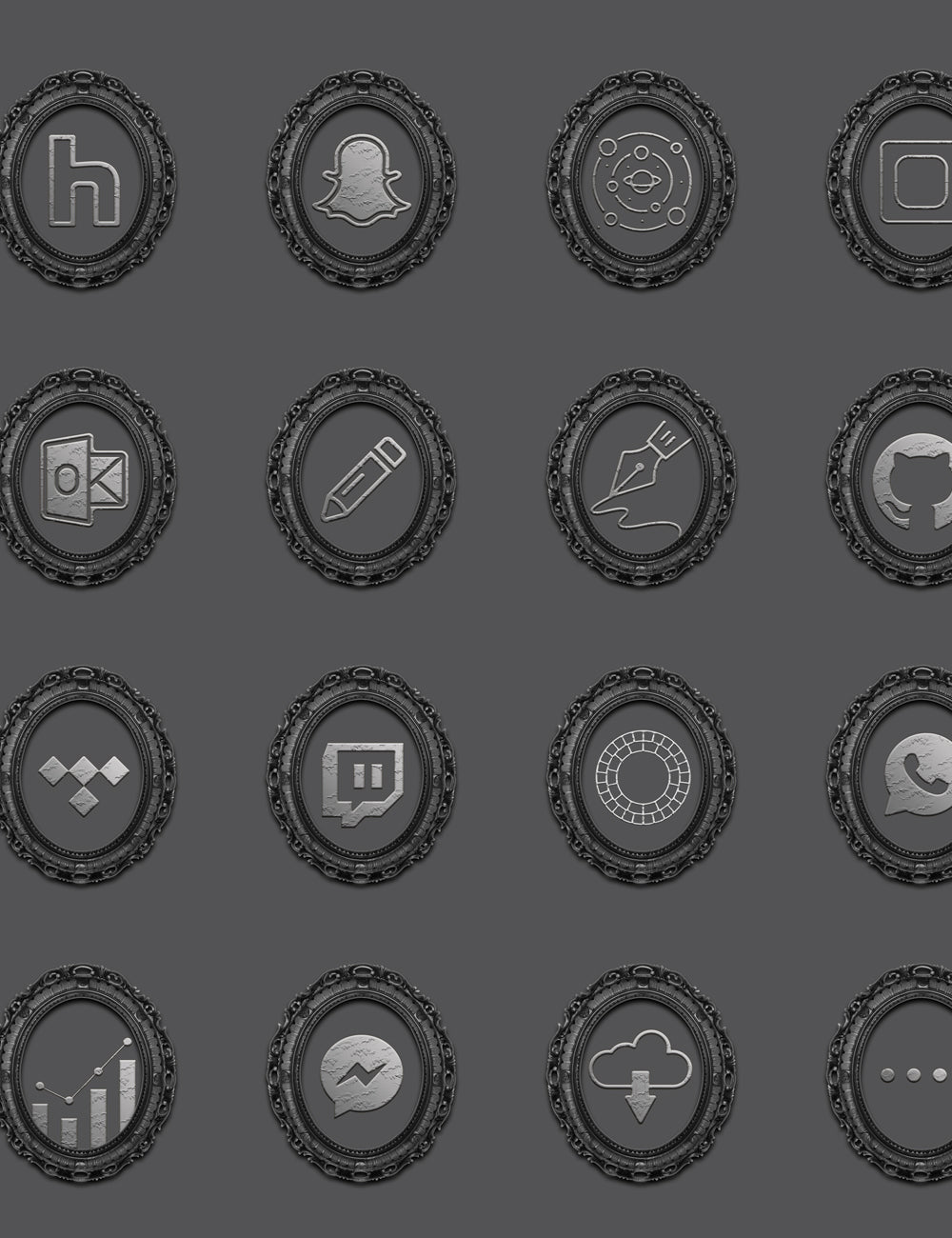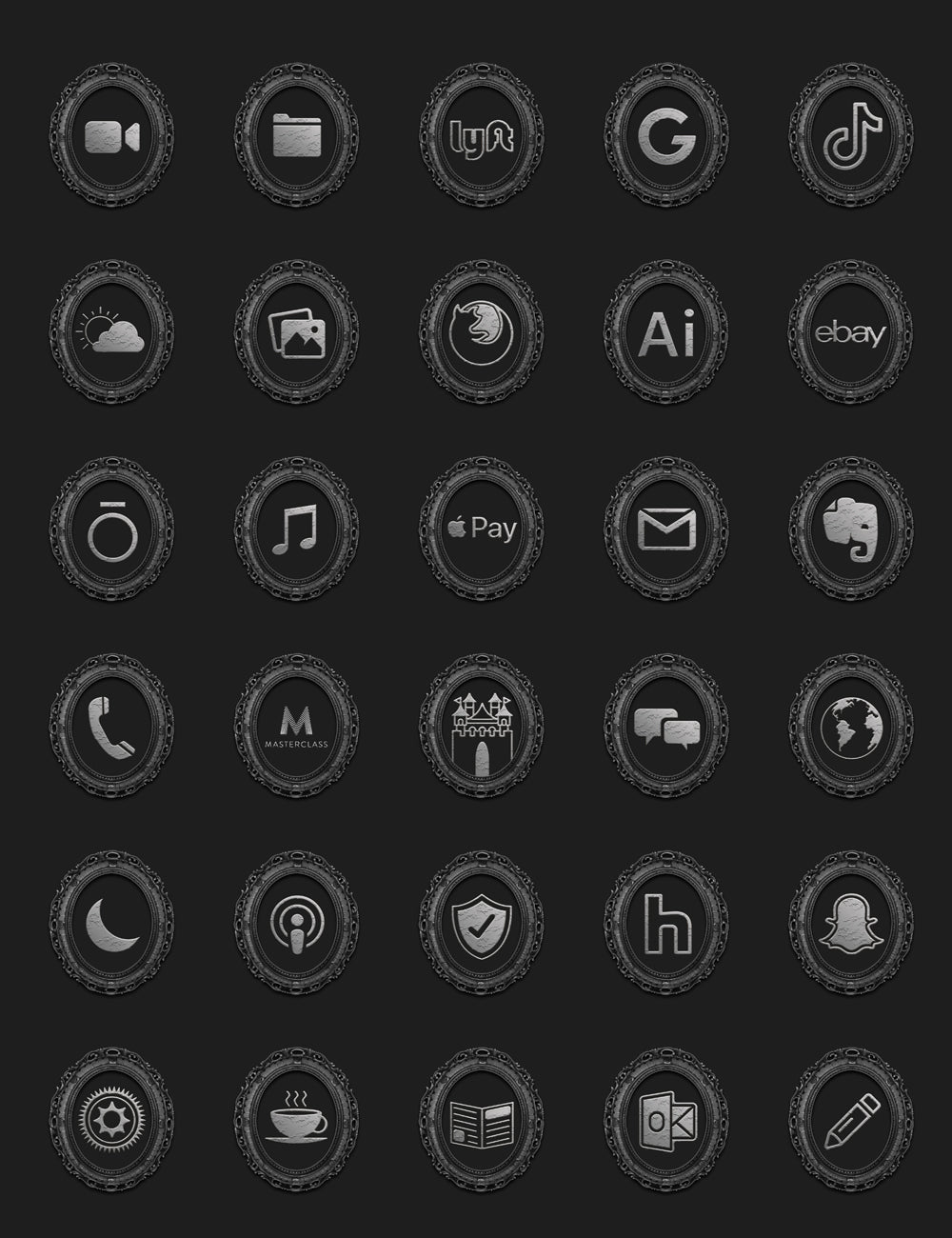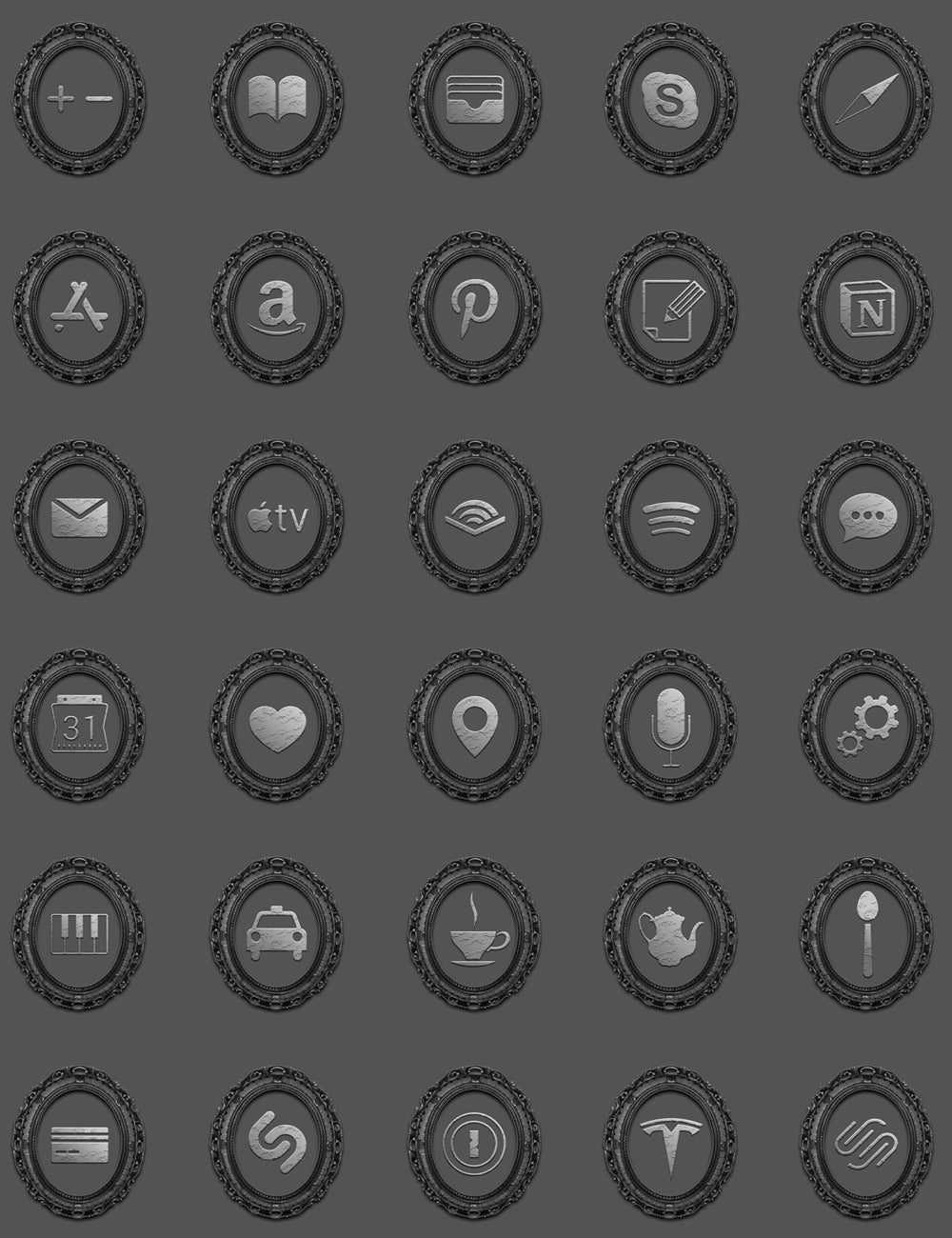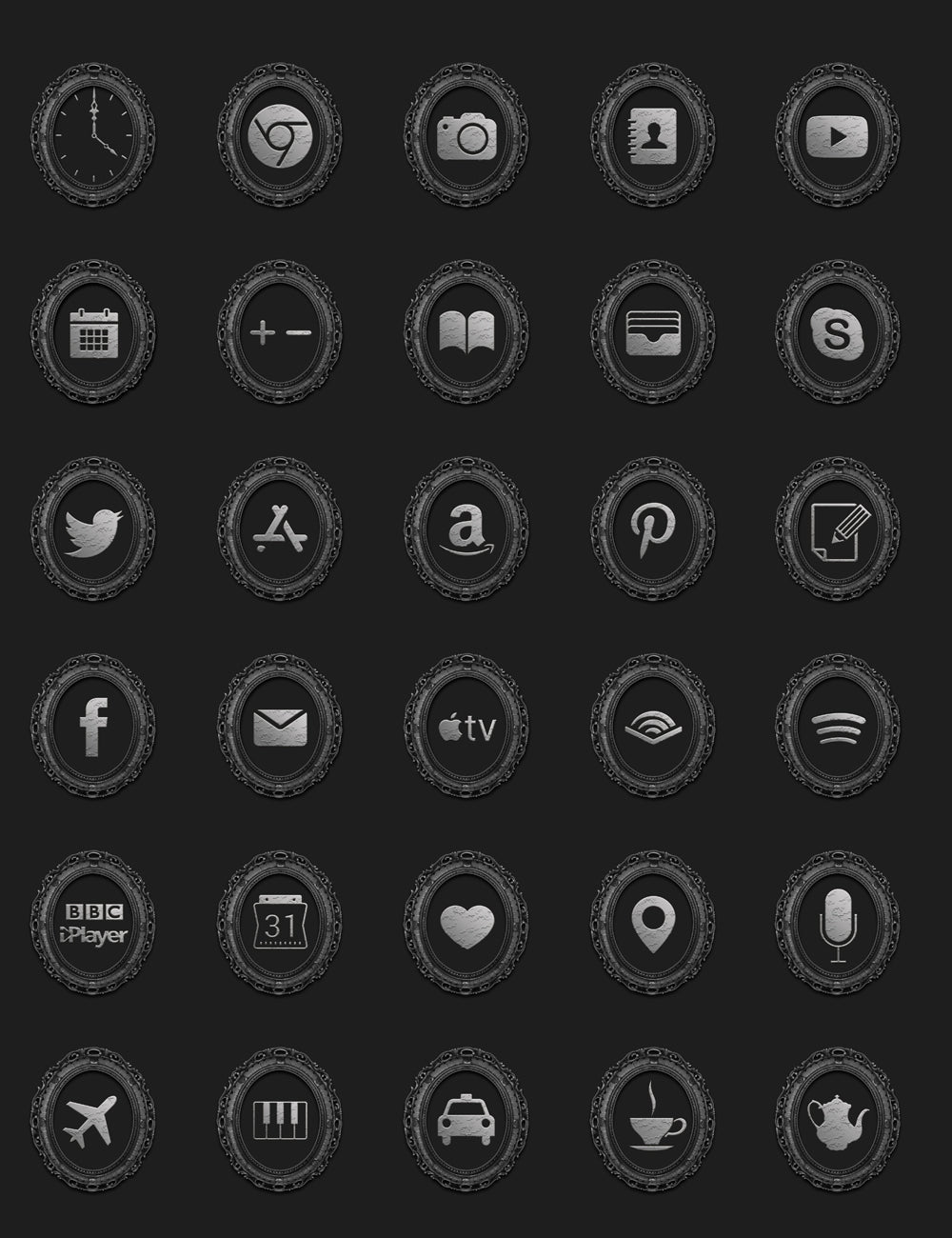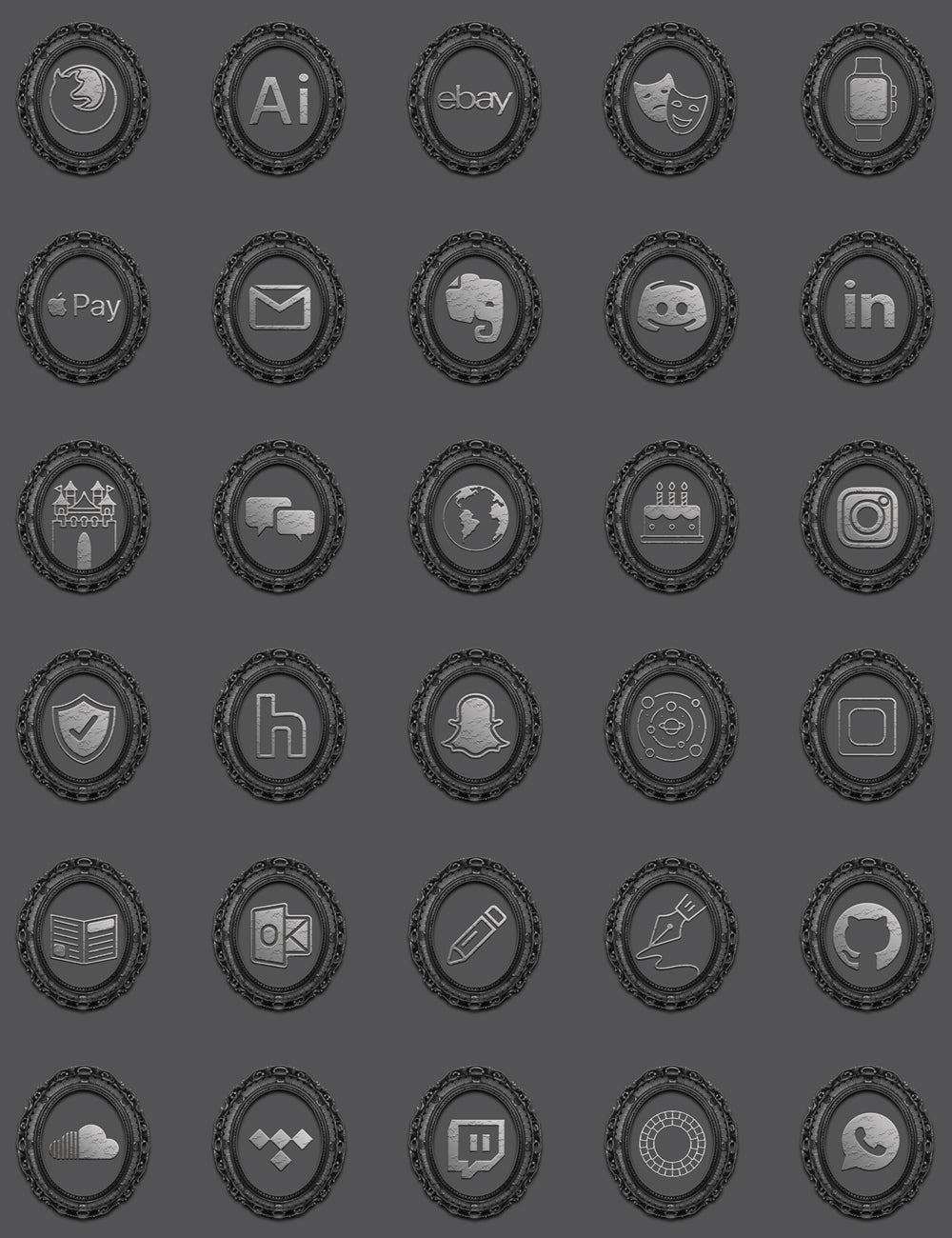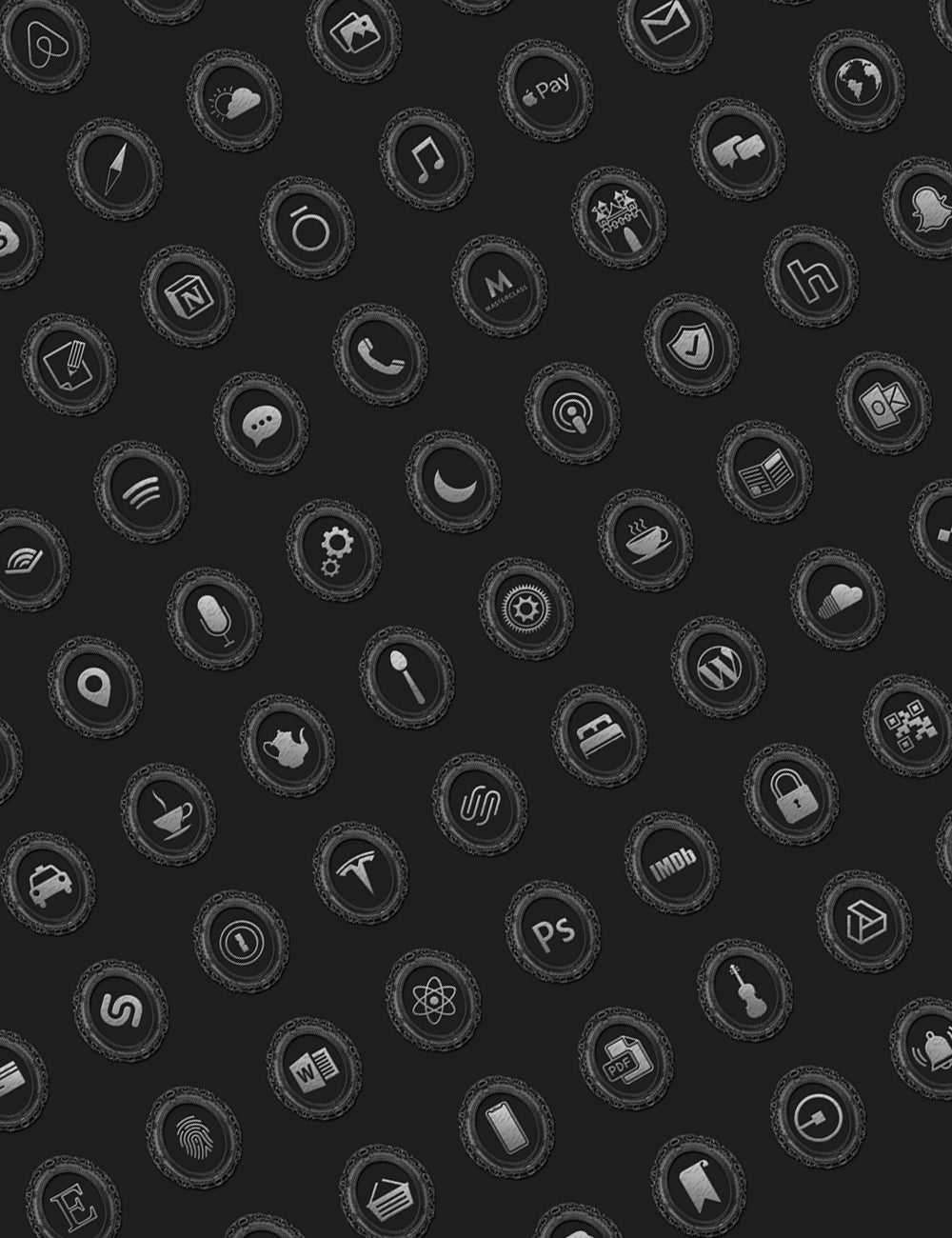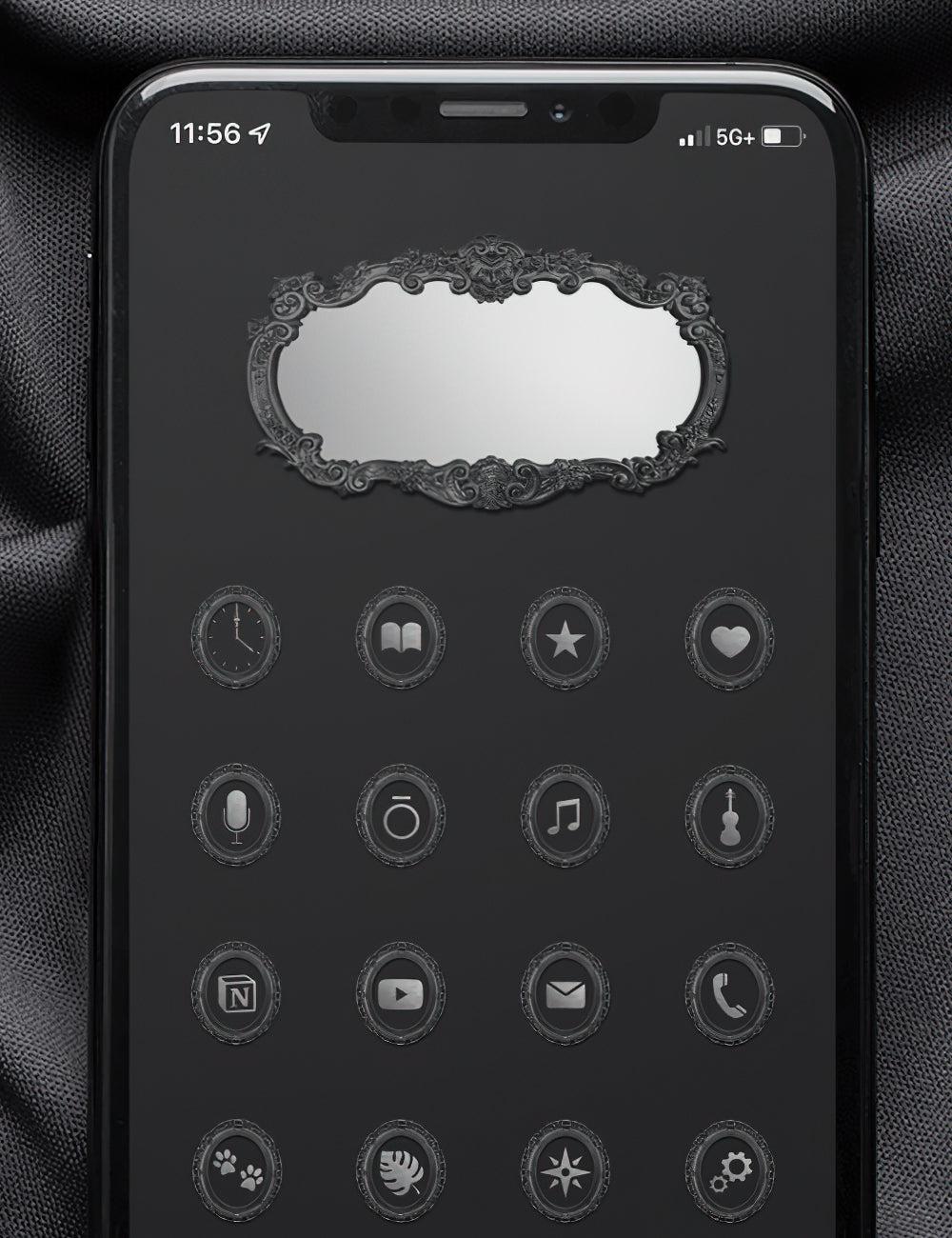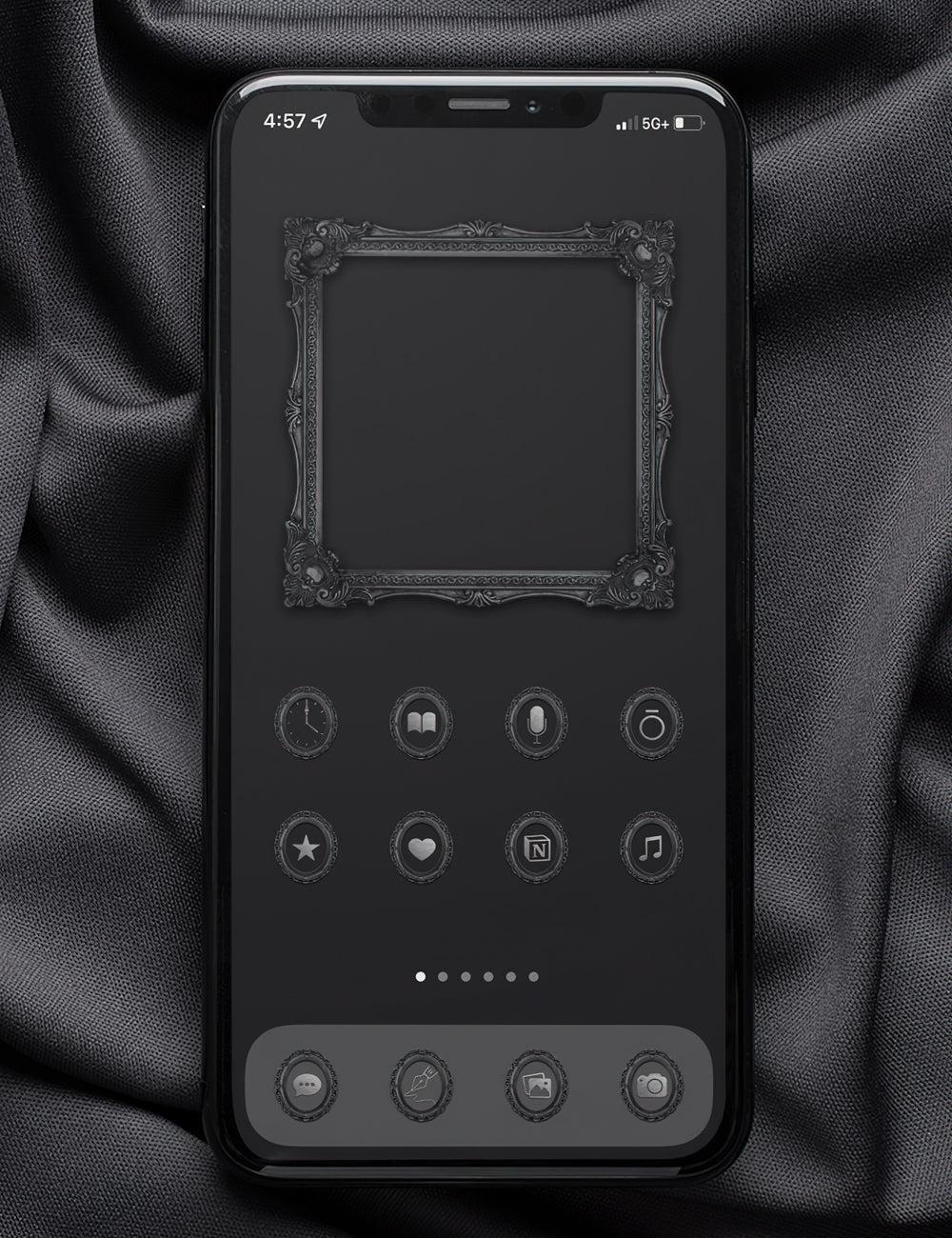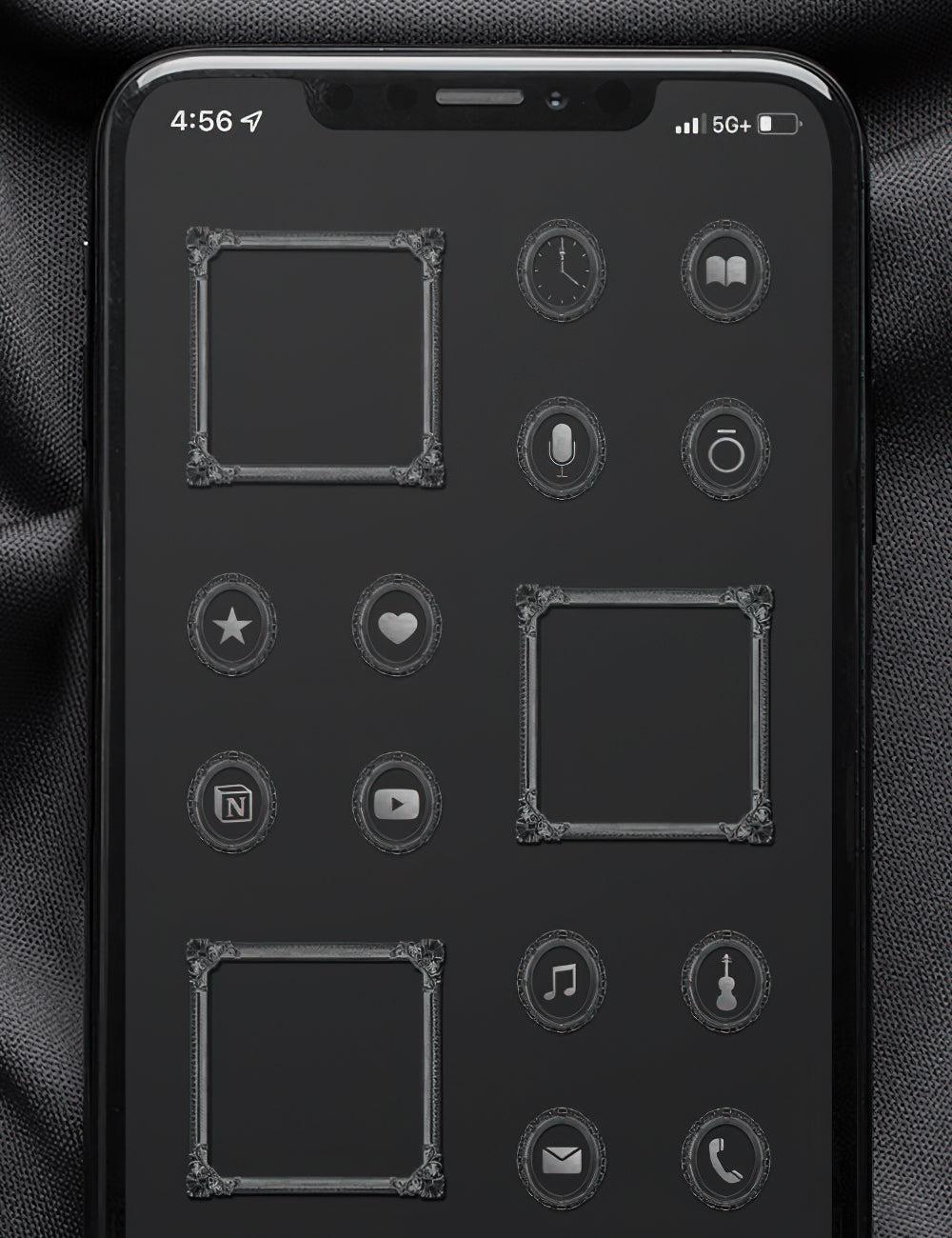 Rococo Gothic Theme iOS Icon Pack
Please select all options.
This is an instant download, so once you order, you can get started customizing your entire phone right away!
About the Theme: A luxurious, painstakingly crafted 304 icon set in the decadent dark Rococo style, overflowing with icons for popular apps and even some more obscure ones. See the menu below for a complete list! Also included are matching widgets in multiple sizes, as well as the background wallpaper.
Boasting more app icons than almost any other icon pack we've seen, this set even includes a selection of icons for you to map to any app or command you wish (teacups, teapot, musical instruments, and even a rat, amongst others).
Free Forever Updates: Whenever a new icon or widget is added, you will receive a notice with a download link.
Specs:
304 app icons across two colors, designed to Apple's standard of 1024px X 1024px, all in high-res PNG format, ready to use straight out of the tin (figure of speech, just to be clear—there is no tin)
2nd Icon Set matches the dock, rendering the icons' background invisible
3 Bonus Widgets
1 Background Wallpaper
1 highly detailed instruction manual PDF
*NEW* FREE GIFT: Asylum Wallpaper Animated Live Video

 

for your Lock Screen
ZIP File Size: 221.5 MB
(Please Note: This is download only. You will receive an e-mail immediately after purchasing containing your download link. You will not receive any physical product in the mail.)
This theme contains two color sets. One icon set is designed to blend into the included wallpaper for an invisible floating effect. The second set is made up of tinted versions of every icon to match the iPhone dock color. You may also mix and match the icon sets if you'd like to eschew the invisible look for something more bold.
Bonus Widgets are included in small, medium, and large sizes, which can be added to your screen via the Widgetsmith app, and even customized within the app to add text, quotes, weather, calendars, and more. The "Widgetsmith" text you will find below the widgets once installed can be done away with by installing the Clear Background app from the Apple app store and following the simple instructions.
Download the ZIP file you receive upon purchase and unzip it to your computer. Send unzipped folders to your phone.
OR
Download directly on mobile into your Files and unzip from there, no desktop needed!
Best Practices: We recommend keeping the Icon folders in your iCloud Files so that you can see the file names as well as the images when selecting the icons, thus enabling you to select icons more quickly. The Wallpaper and Widget images go in your Photos app.
For detailed installation instructions, read the included PDF Instruction Manual, but it may also be useful to refer to this video and follow along:)!
EA originally created a mini version of this icon theme for herself in an attempt to better her relationship with her device by making it cute (she has phone phobia), but, following a blog post where she revealed her home screen, requests for the icon theme came flooding in, and so EA has built upon her original set and created this epic 304 icon version just for you. In other words, she hasn't slept and she's beginning to hallucinate.
#
1Password
A
Acrobat
Airbnb
Airplane
Amazon
App Store
Apple Pay
Apple TV
Apple
Astrology
Audible
B
Battery
BBC iPlayer
Blank
Bookmarks
Books
C
Cake
Calculator
Calendar
Camera
CashApp
Cat Paws
Chat
Chrome
Clear Background
Clock
Compass
Contacts
Credit Card
D
Discord
Disney+
Document
Dog Paw
Dropbox
Earth
eBay
Etsy
Evernote
Excel
F
Facebook
FaceTime
Files
Finances
Find My
Firefox
G
Gear
GitHub
Gmail
Google Calendar
Google Drive
Google Maps
Google
H
Hashtag
Health
Home
Hotels
Hulu
I
iCloud
Illustrator
IMDb
iMovie
InDesign
Instagram
L
LastPass
Leaf 1
Leaf 2
Lightroom
LinkedIn
Luggage
Lyft
M
Mail
Maps
Masterclass
Messages
Messenger
Microphone
Mobile Phone
Moon
Movies
Music
N
Netflix
News
Newsletter
Notes
Notifications
Notion
O
Oura
Outlook
P
Passwords
PayPal
Pen
Pencil
Phone
Photos
Photoshop
Piano
Pinterest
Podcasts
Procreate
Q
QR Code
R
Rat
Reddit
Reminders
S
Safari
Science
Security
Settings
Shazam
Shield
Shopify
Shopping Basket
Shopping Cart
Shortcuts
Skype
Slack
Snapchat
SoundCloud
Spoon
Spotify
Squarespace
Star
Stocks
T
Taxi
Teacup 1
Teacup 2
Teapot
Telegram
Tesla
Theater
Tidal
TikTok
Transit
Translate
Tumblr
Twitch
Twitter
U
Uber
V
Venmo
Video
Violin
VSCO
W
Wallet
Watch
Waze
Weather
WhatsApp
Widgetsmith
Word
Wordpress
Y
Yelp
YouTube
Z
Zoom
All files are embedded with a copyright. By viewing, downloading, or using this product, you agree not to share, resell, or exploit any portion of this product for commercial purposes. (We know you wouldn't, but we legally have to say it;)

Enjoy!